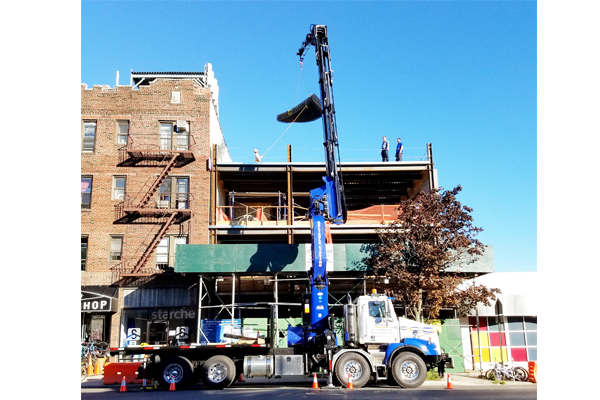 Boom Services Bay Ridge
February 14, 2018
Commercial Crane Lifting Services Cedarhurst
April 15, 2018
Best Hydraulic Mobile Crane Company Bensonhurst
Getting a crane for your next lift job should not be very difficult. Many jobs that you need a crane for can be performed by a mobile crane. Hydraulic mobile crane company Bensonhurst offer a number of options that can ensure you can do the job safely.
Advantages of a Hydraulic Mobile Cranes
A hydraulic mobile crane is one that uses hydraulic lifts to raise and lower the boom. The booms on these trucks are extendable, often to one-hundred and fifty feet, or more.
The vehicle that the crane is mounted on is highly maneuverable, which makes it ideal to use in tight spaces. This allows you to park the crane as close to the move site as possible, enabling you to possibly use a smaller crane, and save money.
The lift power of a hydraulic mobile crane is surprisingly strong. It can often lift as much as cranes many times their size, including tower cranes, and it can do it rather easily and quickly. This gives you a lot of lifting power in a smaller size. It can also raise a heavy load to amazing heights.
Set Up Quickly
The size of the mobile crane is compact enough to enable it to be moved into place quickly. Instead of having to assemble a tower crane, you can simply move it into place, get it anchored properly, and then immediately operate the crane to make your lift. Many hours, and possibly even days, could be saved by using this type of crane.
The speed of the setup can prevent construction crews from having to wait for a crane to be set up. Hydraulic mobile crane company Bensonhurst can have a crane on site quickly – and on time. This will ensure that your crews continue working and can complete projects faster.
The Cranes
Reliable Lifting has many cranes of all sizes and types. Each of them is carefully maintained and inspected to ensure that they are ready for use. They meet all codes as required.
Crane Operators
Whenever a crane is rented from us, we always have crane operators that are available. It is not required that you use one of our operators, but we can assure you that each one is highly trained and experienced. Our cranes and our operators are available 24/7 to ensure that you are able to make the lift when needed.
Each of our operators keeps up with the rules for lifts. They are also certified by agencies such as OSHA, ANSI, and NCCCO. We also have expert riggers who can design the rigging needed to ensure a safe move. Although our operators have a lot of experience in moving HVAC units, trusses, and steel, they can move anything. In ten years of operation, we have not had any accidents.
At Reliable Lifting, we are able to meet your needs for cranes and operators in and around the New York City area. When needed, we secure all permits for you. We are fully insured and are ready to help you with your next lift job. We are located in Brooklyn, and invite you to call us today for more information.
2071 Flatbush Ave #44,
Brooklyn, NY 11234
(718) 414-1103