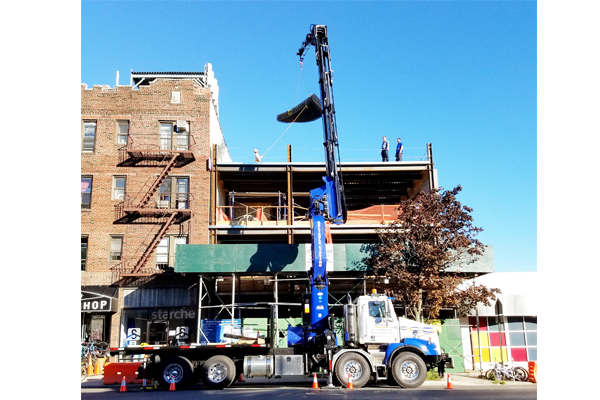 Rigging Services NY
January 15, 2018
Hydraulic Mobile Crane Company Bensonhurst
March 16, 2018
Boom trucks come in all kinds of sizes and capabilities. This lets you select just the size you need and helps keep the cost affordable, too. Reliable Lifting in Brooklyn has many sizes of boom trucks available when you need boom services Bay Ridge.
The Right Truck for the Job
Because we have a wide variety of boom trucks, you can have confidence that you can get the right size truck for your lifting job. Our cranes can move anything from 8 tons all the way up to 450 tons. Whether you need a boom truck for an industrial, commercial, or residential job, we have the right truck for you.
A strong advantage of a boom truck is that it can get into spaces that a larger crane cannot. This makes it the ideal means to move equipment or materials into tight spaces.
Get an Operator, Too
Although you can rent our trucks and cranes without an operator, we want you to know that we have highly qualified operators for any job. They are available for any lifting job you might have. Our operators are all certified and they have a lot of experience, too.
Get the Right Equipment
We also offer rigging services any time we rent a crane. We have all kinds of equipment, as well as the experts who know what kind of rigging you will need for a safe move. All equipment that you might need for a safe move, we can provide for you.
We keep all of our cranes and boom trucks inspected and carefully maintained. We keep them in top working order to ensure safety when they are in use. Each of them meets the required industry standards for safety.
When you get boom services Bay Ridge from us, all of our equipment can be rented for the short or long term. This enables you to save money. Special rates are available if you need a boom truck and equipment for 30 days or longer.
Permits Obtained for You
There are going to be times when it will be necessary to block a road or sidewalk to do a lift job. When it becomes necessary, we will get the permits for you as part of our services. We also will take care of storage, trucking, the rigging, and more.
Insurance Coverage
Our company, Reliable Lifting, carries extensive insurance on all of our cranes and boom trucks. This policy helps us to know that all of our equipment, as well as other people and property are all covered whenever a move is made. Although we do not expect any problems, it has always been our goal to maintain a zero accident policy. So far, we have been able to succeed at this goal for over ten years.
Reliable Lifting has been providing lift services for about 15 years. Our offices are located in Brooklyn and we have many types of cranes and boom services Bay Ridge available. Call us today at (718) 414-1103 and let us show you how we can accommodate your next move.
2071 Flatbush Ave #44,
Brooklyn, NY 11234
(718) 414-1103